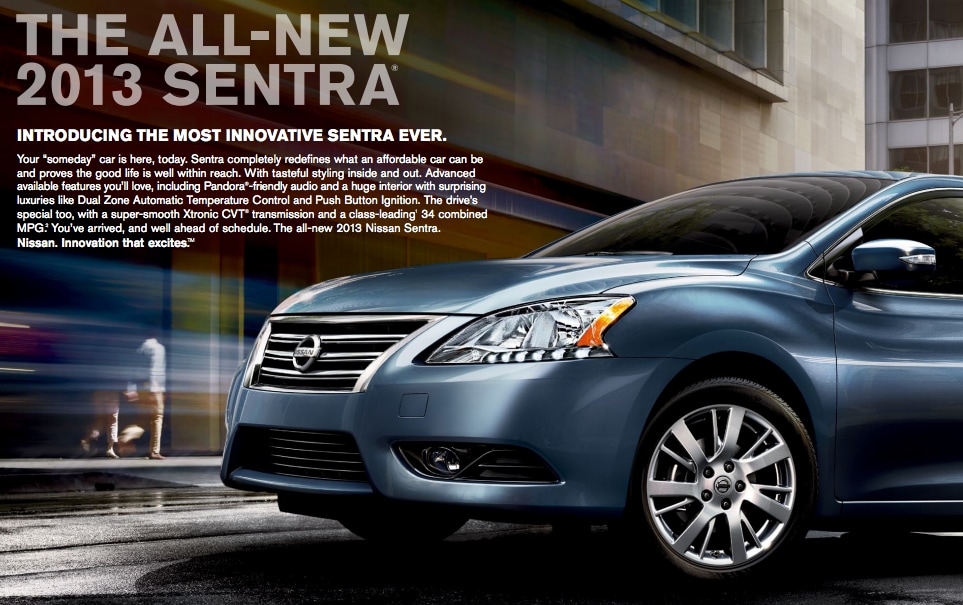 WHAT IF YOUR CAR HAD A PURPOSE IN LIFE?
More than just a pretty face, Sentra's design was perfected in the wind tunnel, to create a ride that's as quiet as it is fuel-efficient. 
As enticing as each detail is, Sentra was designed as a whole, complete vision of what a modern sedan should be.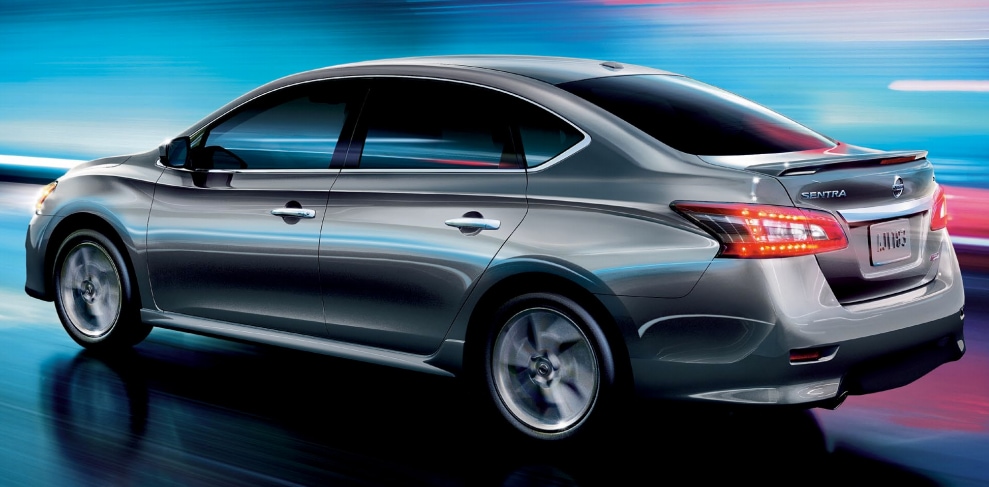 FEARLESSLY PASS BY THE PUMP WITH BEST-IN-CLASS MPG.
From its new 130-hp, 1.8-liter, 4-cylinder engine with advanced valve timing to its nextgeneration Xtronic CVT® transmission, Sentra is a technical tour de force aimed at providing the best of both worlds, efficiency and performance. The result? With a best-in-class city/highway combined 34 MPG Sentra sets the standard for fuel economy. Performance? One smile-inducing test-drive is all you'll need.The biggest change in efficiency doesn't come from technology, it comes from how you drive. In Sentra, that jackrabbit start won't go unnoticed ? an Eco Pedal Indicator in the instrument cluster gives you instant feedback on how you're driving, helping you become a smarter, more efficient driver. And on models equipped with manual transmission, an indicator light will tell you when to upshift for maximum fuel efficiency.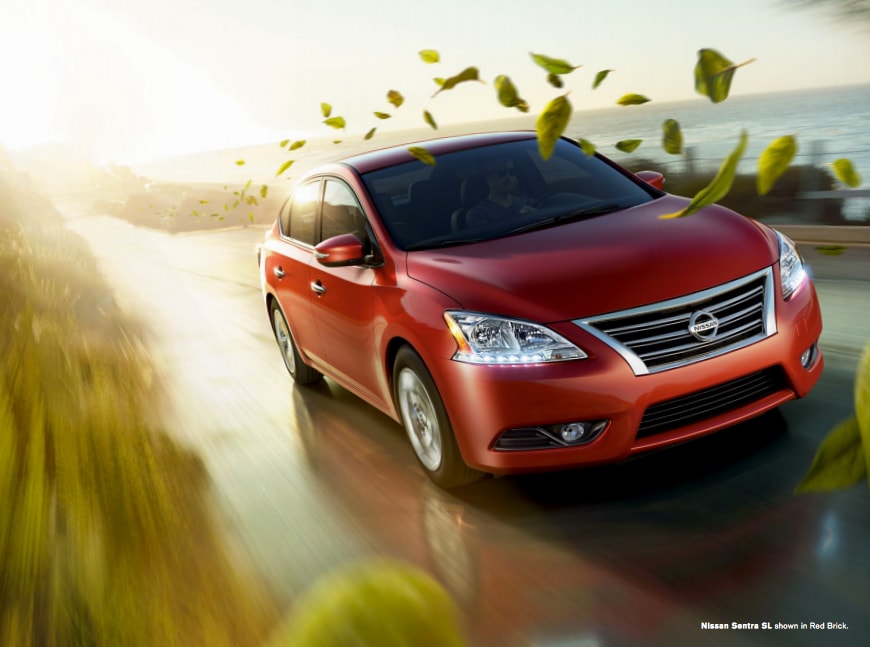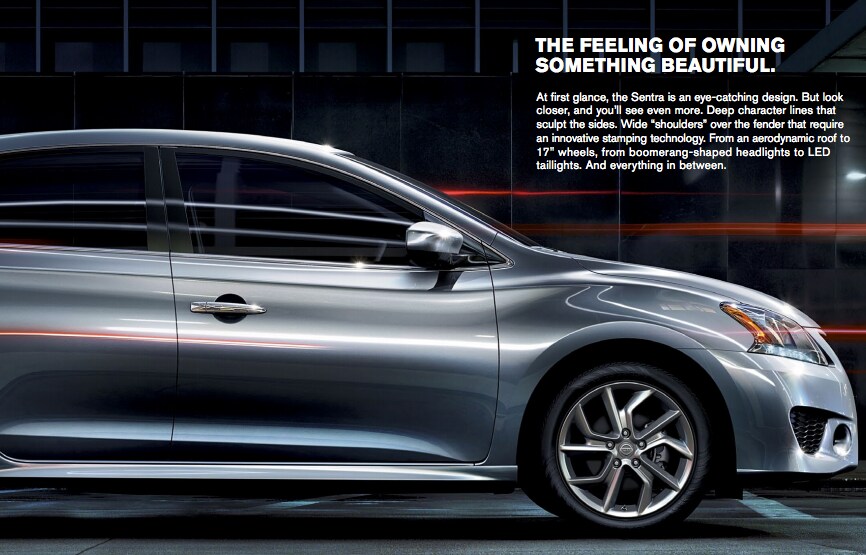 LIKE HAVING THREE DIFFERENT CARS AT YOUR FINGERTIPS.
With the simple push of a button, you can custom-tailor Sentra to match your mood. So what will it be today? Eco, Normal or Sport?
ECO
Feeling thrifty? In Eco mode, Sentra adjusts engine and transmission response to maximize fuel efficiency, and even adjusts the air conditioning for less draw on the power
NORMAL
Best of both worlds. Normal mode gives you a perfect blend of efficiency and response
SPORT
Curvy roads ahead? Sport mode sharpens engine and CVT transmission response to rev up your senses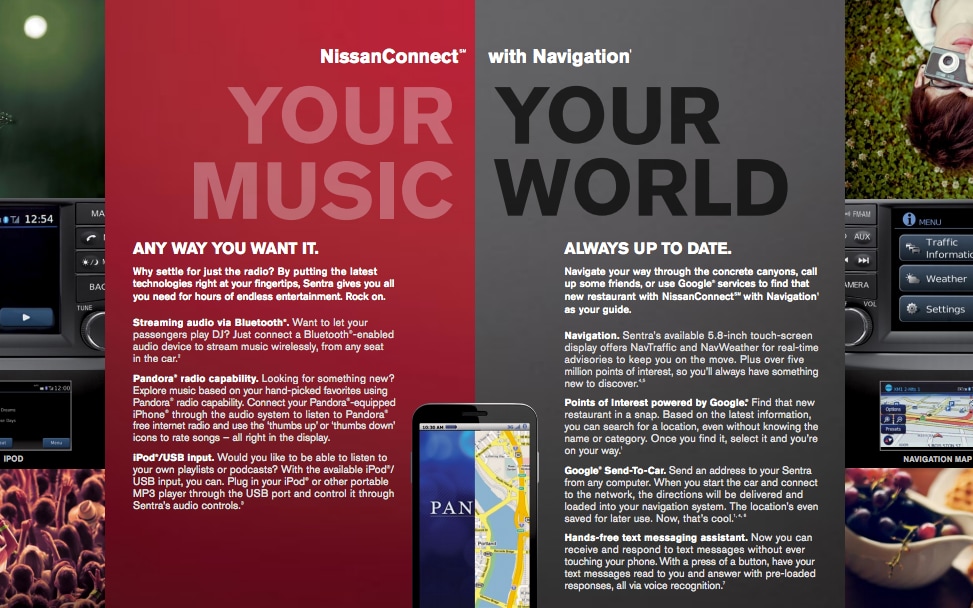 MOVING WITH CONFIDENCE.
We bring a holistic approach to safety and security. Agility combined with advanced technology can help the driver more easily avoid a situation. And if an accident does occur, an advanced air bag system combines with the use of Zone Body construction to help reduce injury. 
Vehicle Dynamic Control (VDC). A slick spot in a corner can suddenly have you going in a direction you didn't want. VDC, also known as stability control, monitors your steering and braking to help you maintain your steered path under certain conditions by reducing engine output and/or applying brake pressure to specific wheels.
Traction Control System (TCS). Sentra's power is wasted if all it does is spin the tires, so when the standard Traction Control System senses drive-wheel spin, it responds by reducing throttle or applying brake pressure to help maintain traction.
Anti-lock Braking System (ABS). The standard ABS pumps the brakes faster than you possibly can in panic-braking situations to help prevent wheel lockup, to help you maintain steering control around obstacles while braking heavily.
Electronic Brake force Distribution (EBD) is designed to send extra force to the rear brakes when there's additional weight in the back.
Brake Assist If you need to slam on the brakes, Brake Assist detects how hard you're braking, and if it senses you are in an emergency, it will automatically help to apply maximum braking force.
Brake Override Technology. Like every Nissan since 2005, Sentra comes standard with Brake Override Technology. It's designed to help slow down your vehicle and bring it to a safe stop in an emergency by overriding accelerator input and reducing engine power when the accelerator and brake are applied simultaneously.
RearView Monitor. When you engage reverse, Sentra's available RearView Monitor helps you see what's directly behind you.
Class-exclusive Easy-Fill Tire Alert. When filling your tires, this available feature gives you a friendly beep of the horn when you've reached the right pressure.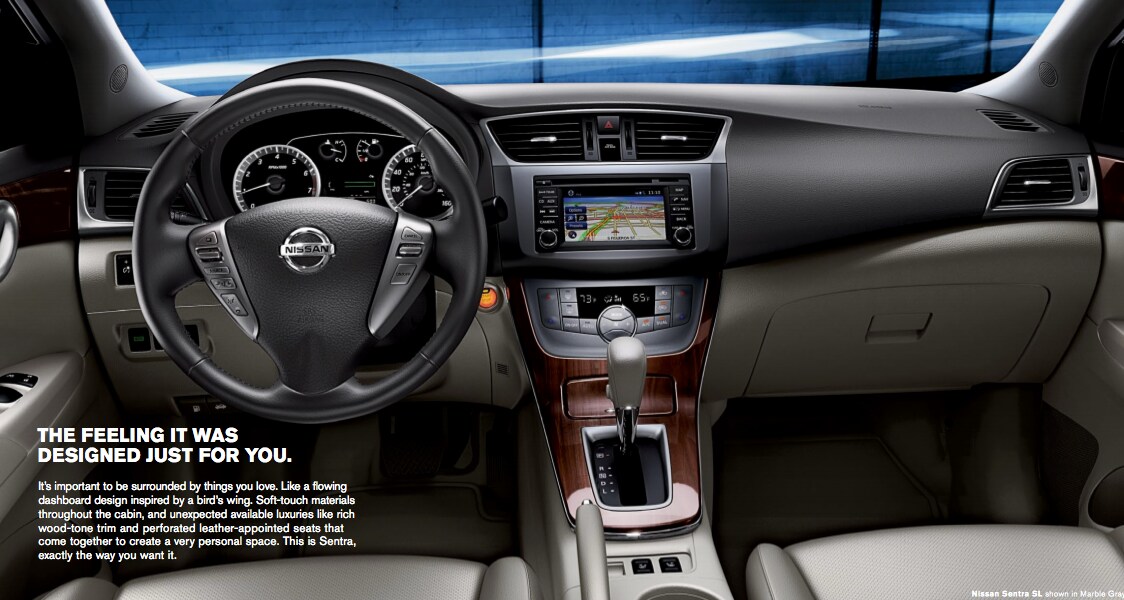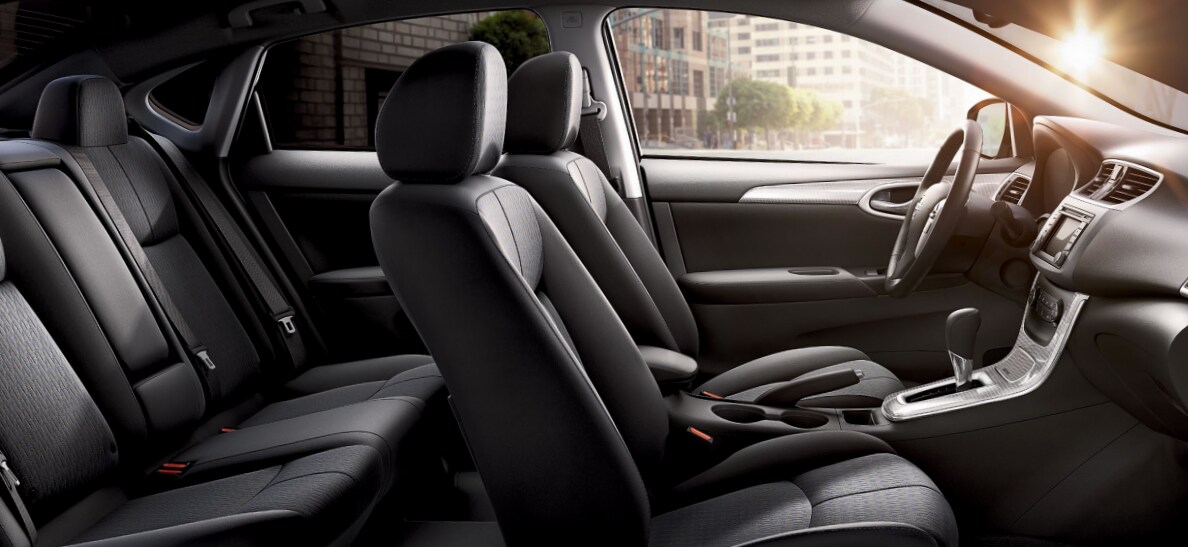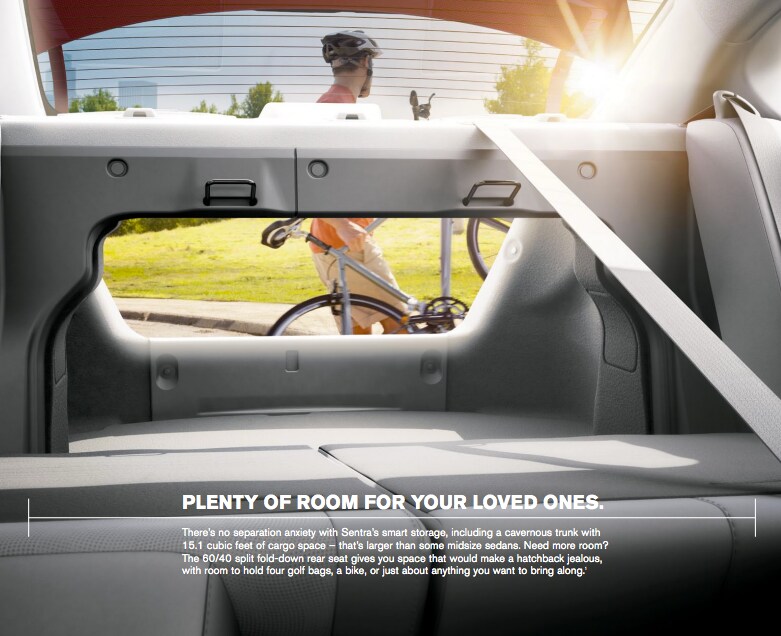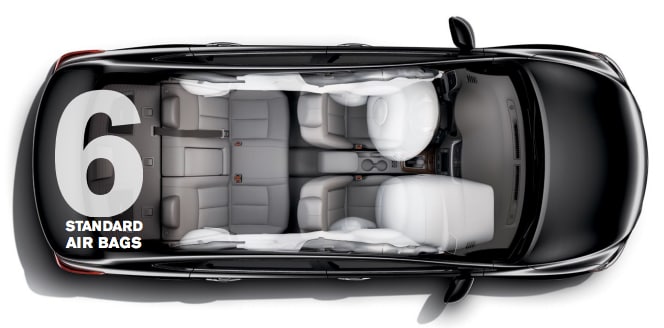 Six Standard Air Bags. Dual-stage supplemental front air bags adjust their inflation rate, depending on the severity of impact and seat belt usage. If your front passenger seat is empty, an occupant classification sensor deactivates that air bag. Standard front seat mounted side impact supplemental air bags are built into the seats, so they move with you as you adjust your seat. Above, standard roof-mounted curtain side impact supplemental air bags help provide head protection for front and rear outboard seat occupants.
Snug Kids.® Nissan safety engineers have dedicated thousands of hours to evaluating hundreds of child restraints in Nissan vehicles. The result: An industry first, The Snug Kids® Child Safety Seat Fit Guide. This guide lists child seats that fit the rear seats of Nissan vehicles, as well as offers invaluable tips on correct installation. Check out this video and look for the latest Fit Guide at NissanUSA.com/SnugKids